Recently I have been having some major withdrawals from my former life as a UT student. You would think that after 7 years I wouldn't miss this place one bit. But I guess we all have those loser moments in life, where we find ourselves just trying to live in the past. Separation anxiety is real y'all. I'm working on it though.
Not to brag or anything, but UT Austin really is one of the most memorable places to spend your college years. Academics and sports aside, the 40 acres really has created a community of expression, tradition, and pride. Ask any former Longhorn. Most of us would tell you that UT campus will always feel like home. A nostalgic place full of memories and accomplishment.Yes, there are many things about "college" that I think we all miss. But for me, it's the little things about the 40 acres that get me. The weird ass traditions and rituals that turned into normal daily encounters for us. Of course I'm proud of everything I achieved as a student there. But I've realized more and more how the little things from my college experience have shaped me into the crazy, yet successful, person I am today.
So yes, you've guessed it. I've decided to accumulate a list of things that get me all nostalgic, and missing that Longhorn lifestyle. For all you haters that did the honor of letting me know that you "hate bitches like this that make lists like Buzzfeed", this is your cue to leave. It's not my fault that you have no sense of humor, and can't appreciate the fact that lists are much easier to read than a novel. And I'm all about EASE and HUMOR. So bye 🙂
Presenting, "Life After the 40 Acres: How to Make a Longhorn Homesick"
Turtle Pond 
Because I guess a fountain wouldn't be "different" enough. I really do miss these little guys. I'll never forget the time I was late to class (and missed a quiz, sorry mom) after rescuing one of the turtles that aimlessly made its way into the middle of the street. I got your back Frederick.
Late night hours at FAC/SSB
I don't think I've ever laughed as hard, smelt as bad, or cried as much as I did in those two buildings. You knew shit was about to get real every time you saw someone walk into the FAC or SSB wearing sweats and carrying food at midnight. The home of my first all-nighter. The go-to place for social hour. I may have never actually learned anything at those places, but I sure did make a lot of friendships.
Life Sciences Library 
The place to go when you actually have your shit together, and have actually started studying more than 48 hours before your test. The serene sactionary.The most beautiful library I've ever seen. OK fine. I usually only went there because it made me feel like I was at Hogwarts. When I wanted to bring out my inner Hermione Granger.
A girl can dream right?
Albino Squirrels
Our own species of squirrels. Because that's totally normal. Anyone remember when one of the squirrels in the family (yes, there is a family) died and they held a ceremony for it? Only at UT. Only at UT. Note to all current students: these bad boys are next to impossible to find outside of campus. Cherish your days with the squirrels.
Texas Football (Student Section version)
OK, obviously no true UT alum lessens their Longhorn football pride. No matter where they are in life. But even your best tailgate as an alumnus has NOTHING on being a student during football season. I swear Saturdays were treated like holidays. And let's be honest. I think I might have a heart attack if I sat in the student section these days.
Taking naps on the Six Pack lawn 
Our very own miniscule wanna-be Central Park. No but seriously. Laying on the grass in the Six Pack gives you such a beautiful view. Lay facing North, you see the tower. Lay facing South, you see the Capitol. Soak in that Austin breeze. Or should I say get drenched in the humidity? Either way, life is always perfect whilst spent on the Six Pack lawn.
Going out on a Thursday night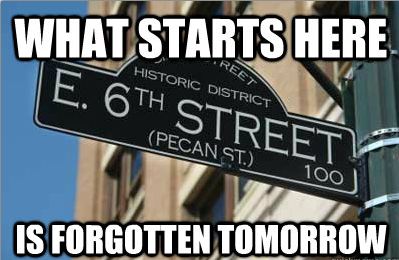 I apologize to my liver for the day I made the decision to join in on the "weekends really start on Thursday in college" theory. How we all survived going to school only a few blocks away from the dirty dirty, I will never know. The day the guy working nights at Taco Cabana called me by my first name, was the day I decided it was time to make changes in my life. I blame it on that Dobie lifestyle.
Bevo Bucks budgeting 
Those damn Bevo Bucks. The first sense of budgeting as a college student. I don't know if you can even call it. I think most of my Bevo Bucks went to Red Bull, coffee, and Frosty's. Eating real food was a privilege. It wasn't until I got turned away at the movie theater, that I realized that this was a lot like Monopoly money. NOT REAL.
After hours Kerbey queso
It only counts if it's midnight or later. Kerbey Lane attracts a different type of crowd late night. People like me that can only force myself to study if there is a bowl of diabetes sitting in front me, cheering me on.
Power walking across campus 
It should be against university policy to allow a student to sign up for a class on opposites sides of the 40 acres back to back. One semester I had 10 minutes to get from UTC to CPE. After bitching and moaning for weeks, I finally figured it out. But then I tore my ACL, and was using crutches to walk. I think I asked for a Segway for Christmas that year.
Junior "The Wendy's Guy"
Junior, my man! Our university may have had Bevo as a mascot, but the Union had Junior. I remember asking him how and why he got so fast at ringing up orders at Wendy's. He responded with "I always tell myself that, no matter what I'm doing, I should challenge myself to be the best at it". Class act. After leaving UT, Junior had a couple hard years of being homeless. Last I heard, he had moved into short-term housing after a UT alumnus helped raise $30,000. Hook 'em!
The tower bell songs
Tom Anderson, you play beautiful music. The best part is when you get thrown off by a not so traditional song on the way to class. Yes, that was a Lady Gaga song.
Starbucks/Chipotle/Chik fil A runs to avoid studying
The joys of being close to the Drag. If your friends didn't distract you, the never-ending options to choose from for dinner did. You call it being in denial. I call it coping.
People watching
Not a f***ing dull moment. Whether it's catching a flash mob, or witnessing a mid-day bicycle clash on Speedway in between classes. There's always something interesting to see. If you didn't see it, you are guaranteed to find it on social media.
Yes, that is a bunch of students holding up fake swords on May 4th in honor of Star Wars Day. May the 4th be with you all.
PCL 5th floor
The pictures say it all. You're only lying to yourself if you think you are going to the 5th floor to actually study. You will totally learn all the answers to life, you just may not come out knowing the answers on the test.
2 for $1 Double Dave's pizza rolls on Tuesdays
Need I say more?
Signing up your friends to listservs for organizations in order to get free stuff 
Because that's what real friends do. Those people take tabling SERIOUSLY in the West Mall. Not only did I get free shit and paraphernalia, but I get to enjoy watching you freak out once you realize that you are signed up to rush for that one frat/sorority you can't stand. Jokes on you, bro.
FA bus
The Forty Acres bus may single-handedly be the least consistent piece of operation that I have ever come across. Nonetheless, you're always bound to run into someone you know while riding. And possibly meet a new friend. Especially on rainy days, when people would rather be smothered in a strangers body odor than get a little wet.
The smells of SCIENCE coming from Welch 
Or maybe the smell of fear. Or the feel of realization when your professor addresses a room of 500 eager students with "Look to your right. Look to left. Only 1 of you will pass this class. Not everyone can be a doctor." On the first day of class, mind you. No bullshitting around, huh!? Thankfully my Ochem TA thought I was cute, and didn't make me pay for the entire distillation apparatus that I broke. Oh yeah. Timmmmberrrrr.
Monthly test alarms that always happened on Wednesday
I mean honestly. Is that really necessary? Anybody else mistake the 2012 bomb threat for a practice test? The best thing that came out of those alarms, was the fact that they helped me stay awake.
Those little UT tower water bottles
Cute, aren't they?! Corny? Maybe. Awesome? 100%.
So there you have it. The little things about UT campus life that make me miss it every now and then. Don't get me wrong. There isn't an amount that you could pay me to power through another all-nighter. But to live a day in the life of a poor, malnourished, UT college student, trying to find a purpose in life through all of the interesting distractions in this weird ass place. That shit I would do for free.
Hook 'em baby!
*Cheers*
H